About the Company
In 2016, the Atiq Azar Sahand Investment Company purchased the Shamsh Pars Ram Industrial Company from its Indian owners and renamed it to Sanat Tejarat Pardis Azerbaijan Company. This firm was registered with the Companies House of the Qom Province on 2016/06/16 at Number 42688 and the national ID of 14005929520.
On 2016/11/27, the firm acquired the development licensee number 22538 from the Industry, Mining, and Trade Department of the Qom Province for the implementation of the development plan to build a low-alloy and structural steel rebar rolling plant with an initial capacity of 700,000 tons per year.
The Sanat TejaratPardis Azerbaijan Company initiated its engineering studies for the aforementioned Expansion Plan in the mid-year 2019.
The production line equipment and gadgets were purchased at the end of the year 2019, and the construction of the Production Plant operations began in early 2020.
After 20 months of continuous efforts as the largest industrial unit in the Qom Province, the Production Plant of Sanat Tejarat Pardis Azerbaijan Company was inaugurated in March 2021.
Currently, this company plays an important role in the development of the country's steel industry by producing 300,000 tons of steel ingots and 700,000 tons of rebar in various grades and sizes per year, and it strives to bolden its presence by producing high-quality products at national and international standards in the International Markets, thereby expanding the non-oil exports of the country.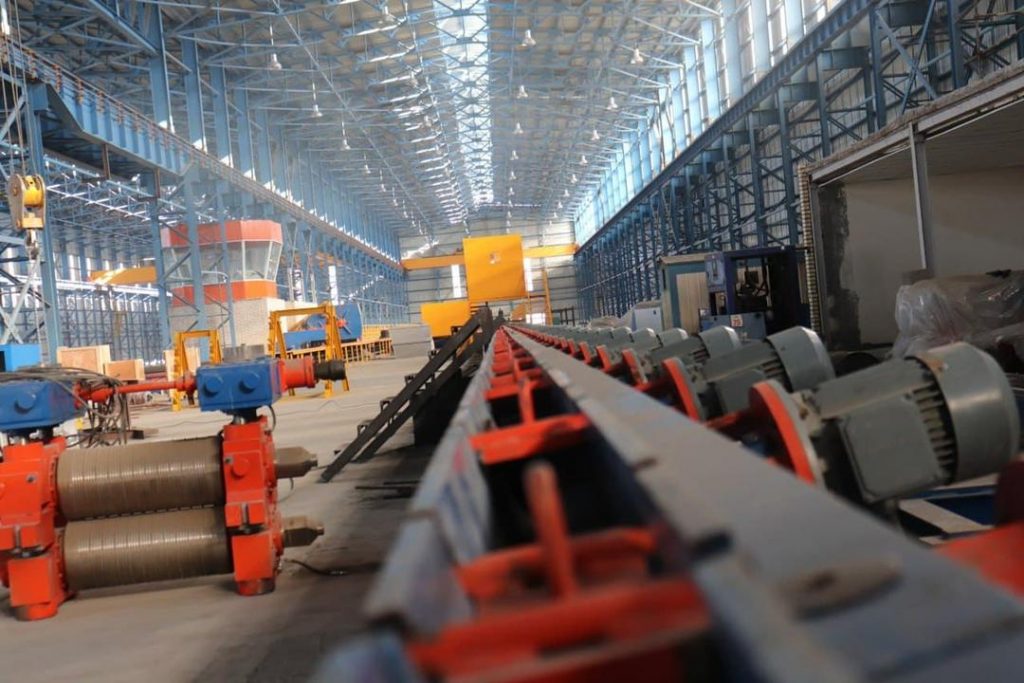 Vision and Mission:
Sanat Tejarat Pardis Azerbaijan Company aspires to be one of the country's top steel producers by manufacturing and providing ingots and steel products that meet national and international standards.
The goal is to become a steel industry leader by establishing a knowledge-based organization capable of producing and supplying knowledge, investing in human resource development, adhering to environmental protection principles and requirements, acting on social responsibilities, commitments to protecting the interests of customers and stakeholders.
As one of the largest steel complexes in the private sector, this enterprise seeks to play an important role in the country's industrial and economic growth by manufacturing steel as a strategic product.
Affiliated Companies of 
Sanat Tejarat
Pardis Azerbaijan 
Sanat Tejarat Pardis Azerbaijan Holding is pleased to serve clients by establishing three huge and powerful firms.
Sanat Tejarat Pardis Azerbaijan
Noor-e Ofogh Trading Company
 Atig Azar Sahand Steel Company
Product Types
All kinds of rebar ingot, ribbed and simple rebar sections from size 8 to 32 with A4, A3 and A2 standards B500B

infographics of

Sanat Tejarat

Pardis

Azerbaijan 
Purchase Order
(Customer)
Order Registration
(Sales Department)  
Receipt of Payment
(Accounts Receivable)
  Confirmation of Remittance
(Sales Department Manager)
Delivery of Goods
(Logistics Department)